This is another entry in my continuing series
Mother Nature, Murderess
, and the final one in my violent post week.
Again, you have been warned, this post is not for the feint of heart.
Sure, monkeys look cute and act funny. They act almost human at times.
It's all part of the master plan. But they can't be trusted. Did you ever drive through the Monkey section at Six Flags? Oh, yeah, they are all over the car, pooping, trying to break off body parts, and generally inducing mayhem, simian style.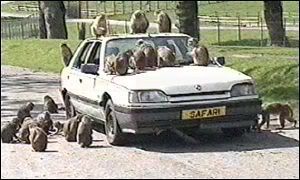 I usually avoid the drive through by the monkeys. They have a bypass road for a reason. Monkeys are among the most evil creatures in all nature.
Many years ago, I had an encounter with a monkey that scarred me for life and helped sour me on nature.
This was before I became Crotchety. I was young, and full of hope for the future. I had dreams, dammit. They were all dashed in minutes in one of the most frightening places on earth--Monkey Jungle in Miami, Florida.
Back then, I was fearless. I even attempted to bridge the human-savage beast gap by offering monkey chow, or whatever it was that was sold in the little vending machine.
I carefully handed one of the peanuts to the monkey, and he grabbed my finger and attempted to bite me. The depraved critter was attempting to eat me.
Sure, I was 30 times his size, but in nature, size doesn't matter.
I managed to escape, but the tale doesn't end there. The fiendish demon then stalked me, sort of. He was in a cage, as all nature should be, and I was able to walk away. But, he was at a crossroads in the park. I had to pass him several times over the course of the afternoon, and each time, he attempted to treat me like a schnauzer treats a fire hydrant.
Oh yeah, and I had to dash past him each time or receive a "shower." I was so fortunate that the monkey was obviously male, and his aim was like most men's.
Disclaimer: No feces were tossed during the witing of this post
Humor-Blogs.com