It's common knowledge that no one knows fashion like Da Old Man does. Seriously. Just ask any of my RL friends and they will confirm that my socks always match, not only each other, but whatever I'm wearing. White socks go with everything, right?
Ok, I'll 'fess up. On the rare occasions that I actually wear pants, they have to be picked out by the Crotchety Old Lady, or who knows what combination I'll come up with.
During my recent journey through the cyber world I've seen a lot of bloggers posting about the Emmy fashions. I like to read these things because, to be honest, they can be pretty funny. One of my favorite fashionistas is Kate at Life As I Know It:
While reading her most recent Emmy wrap up
http://onlifeasiknowit.blogspot.com/2008/09/emmy-slam-2008-preview.html
I saw this: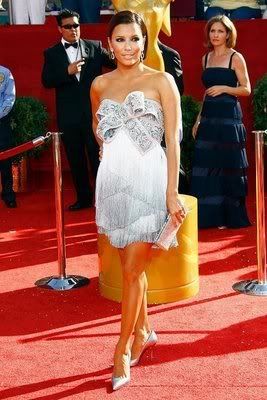 Even I know how wrong that is.
It was another big week on the award front. I received the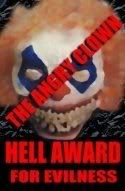 from Ettarose at
http://ettarose-edgeofsanity.blogspot.com/
You will notice she is a member of my ever growing blogroll, which is readily acknowledged as the list of some of the finest blogs in the blogosphere.
I am happy to pass this along to one who is truly evil, and you didn't hear it from me, but she is trying to take over the internet. Look in the next week or so for her evil plan for world domination.
Chelle the Offended Blogger (
http://www.offendedblogger.com/
) and the Cabal Leader at
http://www.humorbloggers.com/
is helpful and kind, and that is her cover for her true evilness.
And don't forget to sign up for Deb's feed. I hate to see a young woman cry, though I'll admit it's kind of refreshing when it isn't my fault. Still, the right thing to do is sign up. You don't want my evilness unleashed upon you.
World domination coming soon from:
http://www.humorbloggers.com/