The judges at Crotchety Old Man World Wide Headquarters and Discount House of Worship worked really hard to read all the wonderful submissions. They finally stopped laughing and turned in their scoring decisions to me.
For the second week in a row, it was a battle for second place as one caption just blew away the judges. Shadow, Fly, Kate, and Tahtimbo all scored first place votes.
Multiple votes were also cast for Jenn, MA Fat Woman, DB, Lauren, Bill, Mike, and Blognow 101.
But half of the first place votes were garnered by the winner, and a "Caption This" veteran, Bradley. The prize winning caption:
Richard Simmons is now prepared for the next time someone tells him to go f*** himself.
He wins the trophy, and entrecard credits. Congrats to Bradley.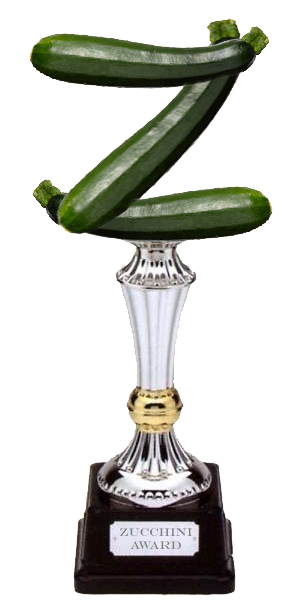 Second place was very close, and won by Kate. Third place went to Tahtimbo.
Each will win some wonderful zucchini.
A great effort by everyone.
And thanks to everyone for the well wishes during my recent bout with the Black Death, or Yellow Fever, or whatever the hell it was I had. I'm no longer on the TP roll a day plan, and am recovering rapidly. I may even eat something by this weekend.
If you haven't signed up for Deb's feed, please do it today. I swear, the woman is very funny and needs your love and support. And any spare zucchini.


They like their zucchini stir fried at:
www.humorbloggers.com