It has come to our attention that certain citizens have not been following proper recycling procedures. A recent UPI story relates of a 76 year old NJ woman who was found in a recycling bin.
http://tinyurl.com/b8kj9v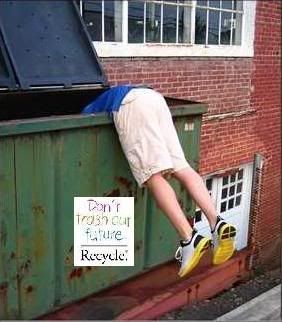 Oh sure, "they" claim it was an "accident," but we don't buy it.
Now, we are all in favor of recycling and responsible usage of our planet's resources, but when we start throwing away perfectly good old ladies, then it is time to take a stand, and I, for one, am doing so.
This must stop immediately.
Thank you for your cooperation. The Grandma you save may be your own.
http://www.humorbloggers.com/