We have reported in the past about British scientists and the peculiar methodolgy used in solving the problems facing us in the 21st Century, such as ear wax.
So, what are they busy researching now?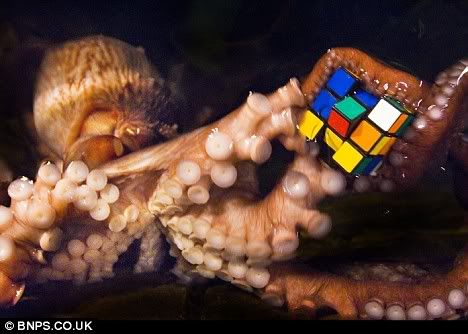 That's right, tentacle dominance among the octupus.
Using Legos, and Rubik's Cubes, our intrepid British scientists, let's call then Nigel and Graham, have managed to get a grant to study this all important topic.
According to the Daily Mail Online, various toys are dropped into the water, and the octopuses (octopi?) are monitored to see which tentacle they use first to grab the toy to see if there is a dominant or favourite one.
http://www.dailymail.co.uk/sciencetech/article-1032700/Octopuses-given-Rubiks-Cubes-favourite-tentacle.html
This can only make one wonder exactly what is the long term plan?
Are we looking to create a new breed of super intelligent calamari?
Really smart sushi?
Or a baby sitter for Octomom?
I'm not sure about you, but I'd be pretty angry if my dinner could solve Rubik's Cube before I do.
http://www.humorbloggers.com/