In our never ending quest to bring the newest information in science technology, the story of shmeat has been uncovered.
Ok, I was just watching Colbert and he did the story, and I'm following up for those of you who are burdened with such pesky things like jobs and raising families, and all around being productive types rather than being able to watch TV 16 hours a day. It's just one more thing I do because you are my favorite reader.
Here's the downlow on the future of Frankenfood:
Vladimir Mironov, a biologist at the Medical University of South Carolina, is among a handful of scientists culturing meat from animal tissue. His work involves turning formless, textureless patches of the stuff into mass-produced form — like meat sheets, or what one might affectionately call "shmeat."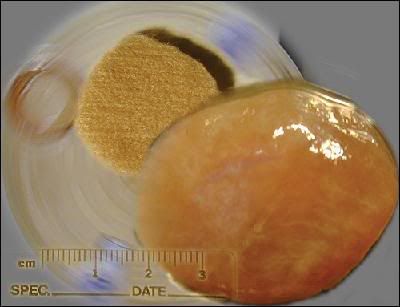 The "semi-living steak" (right) was made of embryonic sheep muscle cells that were grown on a polyester scaffold (left)
The possibilities are endless.
This will go well beyond recipes for shmeatloaf, or spaghetti and shmeatballs.
We will have to go back and change all the old advertising jingles.
MickeyD will have to change the Big Mac one to "2 all shmeat patties, special sauce..."
Wendy's will want to redo it's old "Where's the shmeat" campaign.
This could be a banner day for both wacky scientists and jingle writers alike.
Can you guess who is behind this search for lab grown meat?
Yup, PETA. This is their best idea since sea kittens.

On an unrelated note:
I had corned beef and cabbage Tuesday, and spent Wednesday

Poor Crotchety Old Lady
Lastly, a Happy St. Joseph's Day to my Goomba's.
Picture and some of the information source:
http://www.npr.org/templates/story/story.php?storyId=90235492
http://www.humorbloggers.com/